An Honorable Rancher and the Widow's Gold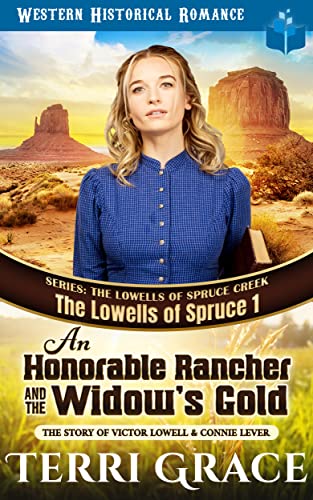 About the Book
The Lowell Brothers are used to hard luck and hard times. But when they decide to leave their rough-and-tumble neighborhood in Columbus, Ohio, they hope their fortunes will change in Spruce, Washington, where they go to mine for gold. But they are not the only gold-diggers. Victor Lowell, the eldest brother, loses his heart to a conniving beauty whose father has cheated them out of the worth of the gold they've mined… Scraping together what little remains the brothers buy land in Fontaine, Washington. Setting up as ranchers near the town, they soon learn of the dilemma of their neighbor, a brave young widow who intends to keep the ranch left to her by her late husband. But Adrian Foxx, whose land borders the Leyer spread, has plans for her, and for her ranch. When they learn why Foxx was so keen to take her land, he and his brothers vow to protect her, but soon to realize that the wise and resourceful Connie Leyer is no pushover! The determined young rancher might know a lot about hard work, but he has much to learn about love, and Connie Leyer is just the woman to teach him that lesson.
Other Books in "The Lowells of Spruce Creek"
Disclosure of Material Connection: Some of the links in the page above are "affiliate links." This means if you click on the link and purchase the item, I will receive an affiliate commission. I am disclosing this in accordance with the Federal Trade Commission's
16 CFR, Part 255
: "Guides Concerning the Use of Endorsements and Testimonials in Advertising."