Pioneer Hearts 5 Book Inspirational Boxset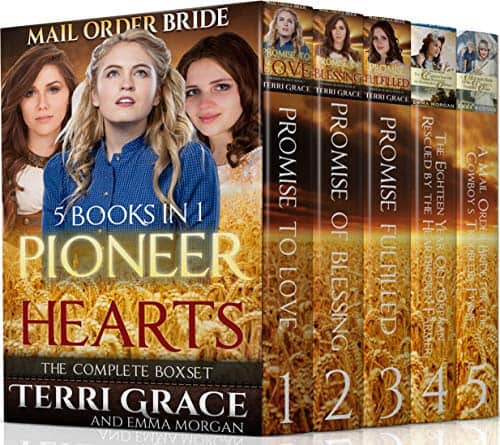 FREE TO READ IN KINDLE UNLIMITED PIONEER HEARTS is a heartwarming collection of Wild Western romances celebrating the courage of young Mail Order Brides and their trailblazer husbands. Also includes BEAUTIFUL BOOKS by Emma Morgan…Promise To LoveWith her father's plummeting business and health, ...
Order Now!
About the Book
FREE TO READ IN KINDLE UNLIMITED
PIONEER HEARTS is a heartwarming collection of Wild Western romances celebrating the courage of young Mail Order Brides and their trailblazer husbands. Also includes BEAUTIFUL BOOKS by Emma Morgan…
Promise To Love
With her father's plummeting business and health, 21-year-old Josephine Hayden is urged to ease her parents burden and accept an invitation to join hands with an unknown Western man in Cowtown, Kansas.
Her first sight of blue-eyed Clae McKinley is encouraging, but when she is presented with a contract outlining her responsibilities as a Mail Order wife fears of a loveless marriage besiege her tender heart.
Josie's nervous efforts to live up to her side of the 'bargain' take a surprising turn that exposes not only her own fears, but the true heart of the man she has been joined with.
Promise Of Blessing
When Harland McKinley sees the joy that mail order bride, Josie, brings to his twin brother's heart he begins desperately looking for a way to earn the hand of his own long-time beau, Beth Drescher. But will his intended forgive him for stepping out with her rival, the fashionable daughter of the local banker?
News of thieveries in Cowtown, ones that the stern new sheriff believes may be connected to the McKinleys in some way, further threatens to keep the young couple apart.
Despite these challenges will Harland and Beth finally declare their love for each other, and the Promise of Blessing come to full bloom?
Promise Fulfilled
Anna Hayden is devastated when the man she expected to marry is conveniently betrothed to another bride.
Thinking she may be condemned to a lifetime of drudgery and boredom as a ladies maid, she wilfully responds to an advert for a Mail Order Bride.
A shock awaits Anna at the train station in Wichita. It is only the kindness of two strangers that avert disaster for the young city girl stranded in a dangerous Western town.
In the uncertain days that follow, Anna discovers that God's grace is far bigger than all of our mistakes!
SPECIAL ADDITIONAL BOOKS BY EMMA MORGAN
The Eighteen Year Old Orphan Rescued by the Heartbroken Farmer
Recently released from the orphan's home and with nowhere to go, Olivia Lester accepts a last-minute proposition to travel west as a mail-order bride. Judd Brockman has made it clear that he only needs a wife as a partner on the farm—not in love—and Olivia accepts his wishes. Judd is a kind man, so when Olivia find herself falling in love with him, she chooses silence over breaking her agreement. But when a woman from Judd's past returns with a scandalous accusation, Olivia begins to wonder if maybe her life with Judd is not what she thought.
A Mail Order Bride for the Cowboy's Troubled Twins
With his beloved wife dead and his boys needing a mother's touch, Billy Henderson reluctantly writes for a mail order bride. Although no one will ever replace his wife, Billy wants to do what's best for his boys—the only family he has left. So when Beth Bennett agrees to travel West and be his bride, he is both grateful and anxious.
Beth Bennett had just begun to recover from the death of her husband, when she learns the bank has come for her house. With nowhere for her and her young daughter to turn, she soon finds herself on her way to wed a stranger, chosen from the Matrimonial News. And while Billy Henderson seems like a kind man, his boys have been allowed to run wild, and they make life for Beth even more difficult than she expected. And Billy, it seems, has no desire to help.
As Beth struggles to build a life in Billy's home, she begins to wonder at her decision. It takes a near miss and patience for healing to finally open the hearts of this broken family, and let the light back in.
Other Books in "Pioneer Hearts"
Disclosure of Material Connection: Some of the links in the page above are "affiliate links." This means if you click on the link and purchase the item, I will receive an affiliate commission. I am disclosing this in accordance with the Federal Trade Commission's
16 CFR, Part 255
: "Guides Concerning the Use of Endorsements and Testimonials in Advertising."