Lydia's Christmas Victory – In The Arms of Her Loving Cowboy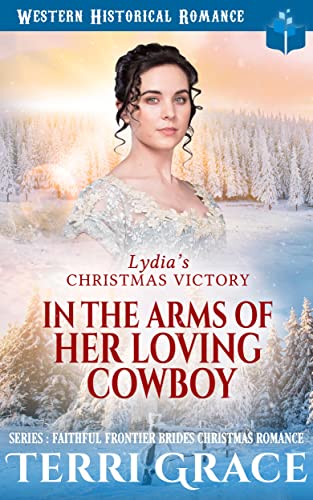 About the Book
Lydia Marlow is very beautiful and her best friend is plain, but beauty counts for nothing when you are forced to flee from the place you call home. Bound for Independence, Oregon, as a Mail Order Bride all of her fears are realized when she's rejected by the man she thought she would marry. Aaron Lloyd yearns for love and the moment he sees Lydia Marlow, he knows deep in his heart that she's just right for him. But the fact that she is spoken for makes the whole affair rather troublesome. Will Christmas be overturned in confusion and strife, or will God turn things around for good? Lydia's Christmas Victory – In The Arms of Her Loving Cowboy is one of the beautiful stories in the Faithful Frontier Brides Christmas Romance series. Each book is a great standalone story, and even better as part of the whole adventure.
Other Books in "Faithful Frontier Brides Christmas Romance"
Disclosure of Material Connection: Some of the links in the page above are "affiliate links." This means if you click on the link and purchase the item, I will receive an affiliate commission. I am disclosing this in accordance with the Federal Trade Commission's
16 CFR, Part 255
: "Guides Concerning the Use of Endorsements and Testimonials in Advertising."