Frontier Brides and Babies Boxset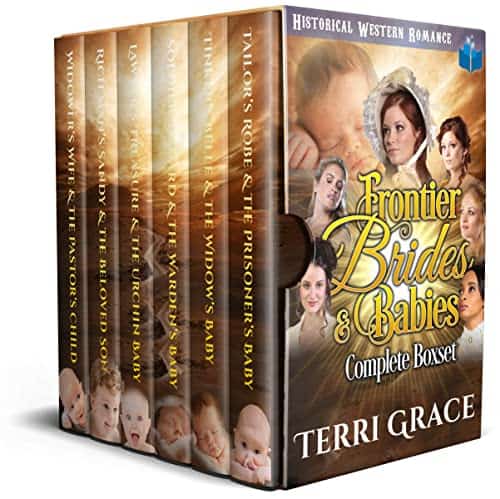 About the Book
Enjoy the full Frontier Brides and Babies Collection in one beautiful boxset – free to read on Kindle Unlimited. Courageous brides and honorable men fight through tremendous challenges to find futures filled with love. All of the love, romance, and drama you look for in a story, with plenty of twists and turns to keep you reading to the end. Frontier Brides and Babies is a series you'll come back to again and again to warm your heart with stories from a bygone era. In this one-of-a-kind collection, you'll be blessed with the following historical mail order bride Bride and Baby adventures… Tailor's Robe & the Prisoner's Baby When Aurelia Robe rejects the amorous advances of her employer and ends up in prison, she has no idea that her life is about to change in so many ways. Suddenly finding herself a single guardian to a little baby born in prison, Aurelia has to find a new life for herself. Intervention by a prison guard sees her sentence overturned, and she soon becomes a Mail Order Bride, traveling to Anchor Point, Idaho. Tinker's Belle & the Widow's Baby When twenty-one-year-old Belle Foster travels to Derry, near Boise in Idaho, as a Mail Order Bride, she believes that she will finally be with the love of her life and have the family she's always yearned for. However, things don't go as planned, and just four months after her wedding day, she finds herself a widow. What's worse is that her dead husband's mother and sisters chase her out of the home, and she ends up unconscious on a train headed to the east and is rescued by a stranger. Soldier's Guard & the Warden's Baby When former prison warden Christine Bennett travels to the West as a Mail Order Bride, the last thing she expects is for her fiancé to leave her standing at the altar. Distraught and with nowhere to go, she accepts a marriage proposal from Felix Gruber, a man she once turned down. It is tough going for the two of them and when Felix's past comes calling, it is only the strength of love that can see them through to the end. Lawyer's Treasure & the Urchin Baby After a hurricane saves her from her wicked stepfather's plan to sell her off to his employer as a concubine, Felicia Banks finds herself at the mercy of a man who can only save her by marrying her. With no other options open to her, she soon finds herself leaving home for the unknown. Rich Man's Sandy & the Beloved Son When Sandra Pott runs away from a marriage arranged by her mother, it's to save her little boy. Her mother had practically sold her to her second husband and now that he's dead, she wants to do it again and find Sandy a third old man. But Sandra doesn't want that kind of life and flees to Anchor Point. Widower's Wife & the Pastor's Child When Irene Gruber left Anchor Point two years ago, it was under a dark cloud and she never thought she would return. She had her life all planned out, but something different was in store for her. Ending up engaged to a man who treats her abominably, Irene has a total change of heart and falls in love with a young pastor who is loving and caring. Forced to flee their home when danger threatens, they somehow end up in Anchor Point and though the past threatens to destroy their love, they realize that true love fights and conquers all. Jump into the saddle, hop on the train, and read Frontier Brides & Babies Box set Today!
Other Books in "Frontier Brides and Babies"
Disclosure of Material Connection: Some of the links in the page above are "affiliate links." This means if you click on the link and purchase the item, I will receive an affiliate commission. I am disclosing this in accordance with the Federal Trade Commission's
16 CFR, Part 255
: "Guides Concerning the Use of Endorsements and Testimonials in Advertising."