Armello Solves It Again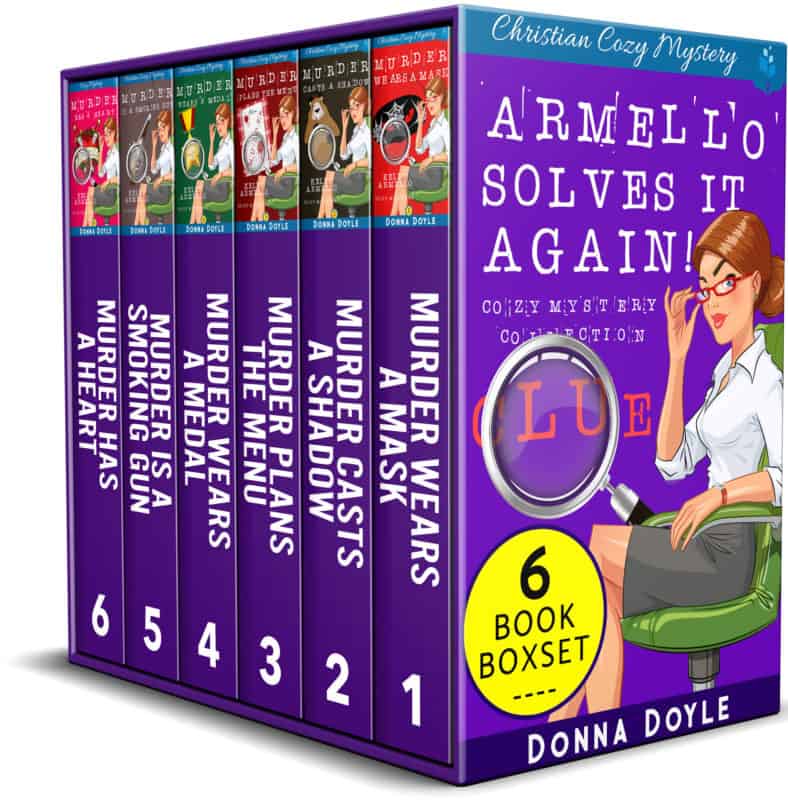 About the Book
Small town librarian and amateur sleuth, Kelly Armello, has an eye for detail and a knack for catching killers! Together with officer Troy Kennedy, a handsome no-nonsense lawman, the Settler Spring Sleuths are set to solve not one, but six cozy town mysteries! Join Kelly and Troy and settle in for many enjoyable hours of fun as you try and unravel the mysteries together with our unconventional couple! Includes all six Kelly Armello Cozy Mystery book in one bargain bundle. Book 1 – Murder Wears a Mask Finding a body in an alleyway when you are grounded is not a good idea. Especially if you are the town's usual suspect for any mischief or mayhem. Only the town's amateur sleuth librarian, Kelly Armello, believes teen rebel Lucas Krymanski is innocent. She even fears there's darker schemes afoot, hidden and horrible conspiracies seething below the surface. Is there more to this unlikely death than meets the eye? Book 2 – Murder Casts a Shadow A church outing to Punxsutawney is the last place you'd expect to run into mystery. Especially when it leaves someone dead in the water! When Kelly discovers deadly connections between her hometown and the haunt of Punxsutawney Phil, the weather-forecasting groundhog of Groundhog Day, nothing can stop her from digging deeper. With the help of Officer Troy Kennedy, and a few other unlikely characters, the Settler Spring sleuths set out to unravel this grizzly affair! Book 3 – Murder Plans the Menu Settler Springs is unsettled and the local church minister is in the frame for murder. Only Kelly Armello believes he is innocent and she is determined to prove it! A Cantankerous old man, dead. But who's the killer? Could it really be the Reverend? Can Kelly and Troy piece together the puzzle and discover who's to blame or will the pastor be sent out to pasture in prison? Book 4 – Murder Wears a Medal When Memorial Day celebrations turn into murder investigations, amateur sleuth, Kelly Armello, and officer Troy Kennedy are thrown into another small-town cozy mystery with big repercussions. Troy's veteran friend ends up dead, and Troy knows in his gut that there's foul play. But how can he prove it, when shady Chief Stark, newly restored to his role as police chief, stands in the way. Book 5 – Murder is a smoking gun When the lawmakers are more lawless than the criminals they claim to catch what can the honest citizens of Settler Springs do? Cracking this case for Kelly Armello is no longer an option – the future of Settler Springs rests on her investigations. Will librarian amateur sleuth, Kelly Armello, and her faithful partner, Troy, uncover the mystery in time, or will the dark underbelly of the quiet, unassuming town catch up with them to finish them off? Book 6 – Murder Has a heart Now married, Kelly Armello Kennedy and her police chief husband Troy Kennedy are disappointed that a February snowstorm is going to ruin their plans for their first Valentine's Day together. But when Kelly discovers the body of a dead man in the library, there's more than a lost holiday at stake. The town of Settler Springs has barely recovered from the murder and corruption caused by former Police Chief Roger Stark and his calculating wife, Lois; now the town is reeling from a murder with no clues. As evidence draws closer to a library supporter and friend, Kelly finds herself at odds with her own husband and is determined to identify the real killer. Don't waste a moment, scroll up and buy 'Armello Solves It Again' boxset today!
Other Books in "A Kelly Armello Mystery"
Disclosure of Material Connection: Some of the links in the page above are "affiliate links." This means if you click on the link and purchase the item, I will receive an affiliate commission. I am disclosing this in accordance with the Federal Trade Commission's
16 CFR, Part 255
: "Guides Concerning the Use of Endorsements and Testimonials in Advertising."