10 Brave Western Brides 10 Book Box Set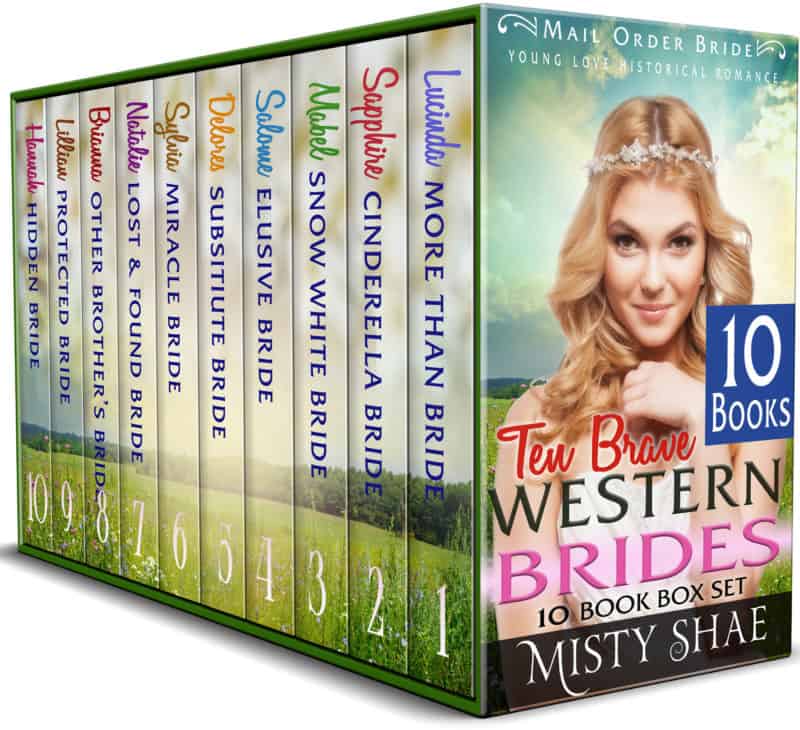 About the Book
10 Book Mail Order Bride Box Set
Enjoy this adventurous feel-good series of stories about young, brave women who plucked up courage to travel an unknown future on the Frontier. Includes: Lucinda – More Than Enough Bride Fleeing from trouble, Lucinda Jenkins becomes a Mail Order Bride for a man whose sister wants to see him settled after they face tragedy. Jordan Russell has had his fair share of pain and when his sister finds him a bride, he's surprised when she's even more than he's ever prayed for but they have to face her past before the future can shine bright for them. Sapphire – Cinderella Bride Sapphire Wenton goes west on a mission to help a friend but ends up married to the very person she's come to seek. Unfortunately, Raphael Bunting has made a mistake and married the wrong woman. It takes a near disaster to make him realize where his heart truly lies even as he fears that he has left it too late. Mabel – Snow White Bride Cecil Bradley suddenly finds himself a widower with seven little children who need his attention. Just one month after burying his wife, he's forced to find a bride from the East to take care of his family and when gentle Mabel Sunders arrives, he hopes he can finally find the love that has eluded him. Salome – Elusive Bride When Salome Briscane receives a marriage proposal from a man in Schnell Creek, her first instinct is to refuse. Her curiosity gets the better of her and she's soon on her way to a new life. The journey leads her to discover a lot about her past that she never expected. Delores – Substitute Bride Nigel Monroe is disappointed when his Mail Order Bride turns up. She's not the beauty he expected her to be seeing as she was a replacement after her sister let him down and married someone else. What will it take for him to realize that beauty isn't merely skin deep but comes from within the heart? Sylvia – Miracle Bride With a death sentence in the form of an incurable heart ailment hanging over her head, Sylvia Mainer purposes to make the last year of her life count. Going out to Tacoma as a housekeeper seems to be the right thing to do but when she gets there she finds out that James Donahue didn't need a housekeeper but a wife and mother for his one-month-old son. Natalie – Lost & Found Bride Solomon Grant can't believe that he's been fooled and robbed by a woman he expected to marry and when a stranger shows up in town with his beloved possessions, he knows he doesn't want her to leave. But she belongs to another. Can he convince her that she belongs with him and not the fiancé who is waiting for her? Brianna – Other Brother's Bride Going west to get married to the man she believes she's in love with should be exciting for Brianna Geiger but she's faced with a dilemma. She's in love with the wrong brother! 

Gordon Baker is in love with his brothers Mail Order Bride and doesn't know what to do about it. Will these two spend the rest of their lives loving each other and yet knowing they can't be together? Lillian – Protected Bride Faced with the threat of going to jail for a crime she didn't commit, Lillian Fenton goes West in search of the one man she believes can protect her. Patrick Boyd remembers Lilly as a young girl who was his little sister's best friend. Now that she's come to him for protection, he begins to realize that his feelings run deeper than he'd thought. Hannah – Hidden Bride When her charge is kidnapped, Hannah Winthrop disguises herself as a Mail Order Bride to find the person she believes is responsible. Lawrence Milburn is surprised when a beautiful woman shows up on his doorstep accusing him of kidnapping a congressman's son. He doesn't know whether to be angry or to allow himself to fall in love with her.
Other Books in "Young Love Historical Romance Vol.III"
Disclosure of Material Connection: Some of the links in the page above are "affiliate links." This means if you click on the link and purchase the item, I will receive an affiliate commission. I am disclosing this in accordance with the Federal Trade Commission's
16 CFR, Part 255
: "Guides Concerning the Use of Endorsements and Testimonials in Advertising."