Thanksgiving Bride – A Gift for Stanley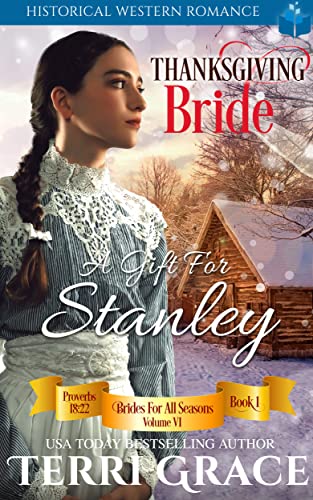 About the Book
Thanksgiving is a detestable day for two lonely souls many miles apart. Can a chance meeting lead their wounded hearts back to wholeness? Stanley Garfield hates Thanksgiving! It is the day his mother died. Moreover, this holiday is the humiliating day his fiancée ran away with his best friend. Betrayed in the most horrible way by her sneaky sister, Vera Madison refuses to rejoice. Thanksgiving is the day she lost her heart! Maybe she will find it again in Mooseridge, Oregon where she runs to escape her anguish. Neither expected a chance meeting could lead two wounded hearts to rediscover the joy of Thanksgiving and find healing for their wounded souls. Join USA Today Bestselling author, Terri Grace, for a heartwarming Mail Order Bride Thanksgiving romance. How will Stanley and Vera find their way back to joy, love, and thankfulness? Read Thanksgiving Bride – A Gift For Stanley today and find out.
Other Books in "Brides For All Seasons Volume VII"
Disclosure of Material Connection: Some of the links in the page above are "affiliate links." This means if you click on the link and purchase the item, I will receive an affiliate commission. I am disclosing this in accordance with the Federal Trade Commission's
16 CFR, Part 255
: "Guides Concerning the Use of Endorsements and Testimonials in Advertising."