Widows of Wellness Creek Boxset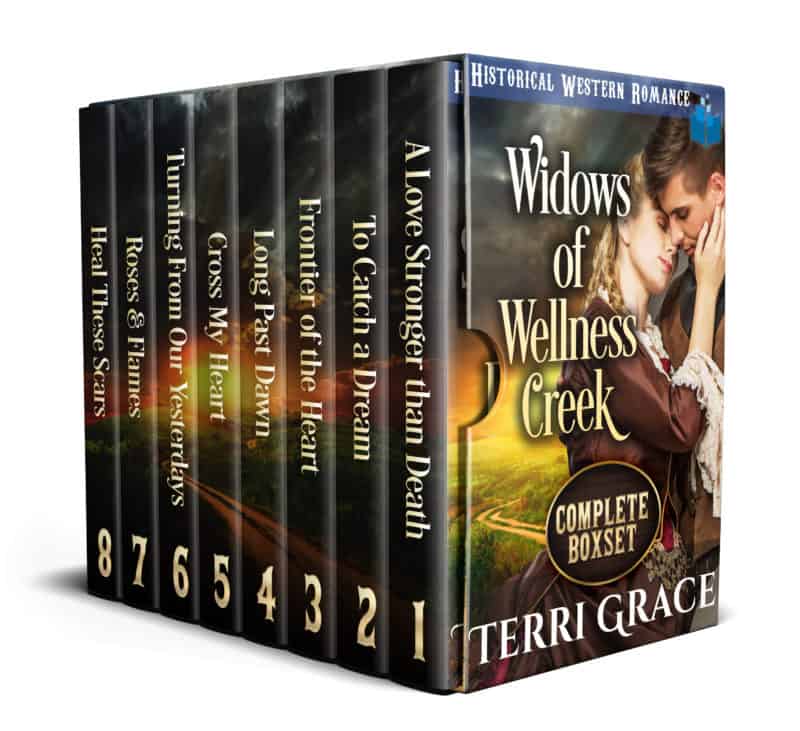 About the Book
If you love faith-filled tales of the West, overcoming stories of resilient love, and characters that embody the pioneering spirit and celebrate the best of our humanity, you will be swept away with The Widows of Wellness Creek Complete Boxset. READ IT TODAY! Every story in this magnificent series is included… A Love Stronger Than Death Matilda Carlisle hides behind her sorrow. How could a loving God allow her to be widowed at such a young age? And how can true love ever cross her tragic path again? Resigned to remain a widow for the rest of her life, she has no idea what blessings the Lord is about to bring her way. To Catch a Dream About five years ago, Glenda Owens nee Simmons eloped with a man her beloved grandparents disapproved of because she didn't want to marry the man they had chosen for her. Her grandparents assigned her a personal bodyguard, albeit secretly, but in a clash with her husband, Nelson Fuller is supposedly killed. Now years later, Glenda is shocked to see someone who resembles Nelson, the man she believed was dead and she is determined to get answers. Frontier of the Heart Can a disillusioned man in search of a new future conquer the wild frontier of a wounded woman's tender heart? Dr. Gabriel Sanders is a man who has been disillusioned at his workplace in Philadelphia. He feels that his efforts aren't being rewarded and decides to find greener pastures for himself. When the elderly master of matchmaking, Molly White of the Cozy Bridal Agency, sends him to Wellness Creek, he has no idea that there will be far more challenging territory to tame – the heart of a woman he falls head over heels in love with. Long Past Dawn A woman desperately running away from her past, Irene Wilkins, lands in Wellness Creek. After living a quiet life for over a year, her previous life returns to haunt her with a vengeance. Whom can she trust and turn to who will protect her virtue and keep her good name? Will her world come crashing down once again? Cross My Heart Everyone deserves a second chance in life and love, and for Sandra Gillen, mother of a twelve-year-old girl, this comes in the form of a journey taken from England, all the way to Wellness Creek. All of Sandra's hopes for herself, and especially for her little girl, are wrapped up in this uncertain and dangerous trip. The greatest journey she will need to take, however, is a journey of the heart Turning From Our Yesterdays A soiled dove plucked from the fires of hell itself is Liana Baxter, and when she comes to Wellness Creek as a Mail Order Bride, she hopes to have left the past behind. All Liana longs for is to love and be loved, and she wonders if her fiancé will be the kind of man she's been praying for. Roses & Flames Sudden death in any family is tragic, but for Hilda Weldon it leaves her as guardian to her sister's twin children and fearful that her fiancée will abandon her without means and bereft of hope. Can she believe that the man whose invitation to join him on the Western frontier will have heart enough to accept not only her but two unexpected children? Heal These Scars Arriving on the station platform to be cast aside by the man she thought she would marry is not what Bryony Jettison wanted as her welcome to Wellness Creek. What woman would? It is only her training as a teacher that saves her, making her the best candidate for the new mission school. It seems that her future may lay here after all. Until the scarred man arrives in town and turns her world upside down.
Other Books in "Widows of Wellness Creek"
Disclosure of Material Connection: Some of the links in the page above are "affiliate links." This means if you click on the link and purchase the item, I will receive an affiliate commission. I am disclosing this in accordance with the Federal Trade Commission's
16 CFR, Part 255
: "Guides Concerning the Use of Endorsements and Testimonials in Advertising."