Sweet Dream Romance Boxset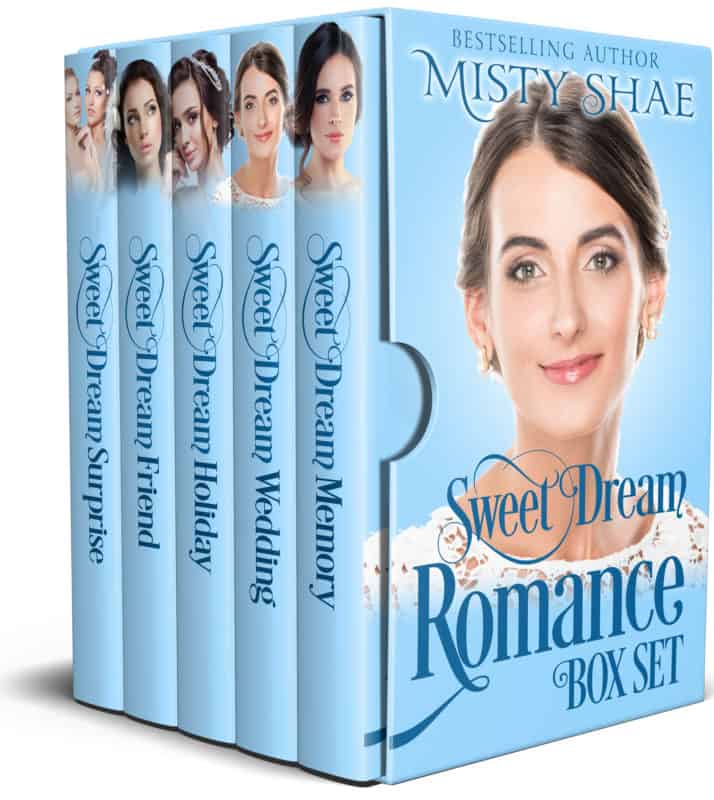 About the Book
FREE TO READ ON KINDLE UNLIMITED. If you like sweet clean romance, you will enjoy this page-turning 5 book boxset by popular Christian author, Misty Shae.
Sweet Dream Memory
"I don't know how to tell you this, but I have no idea who I am." The pyjama clad lady standing across from him in the kitchen is today a stranger, even though she wears his ring. Thus begins Trevor's greatest climb ever – back to love! Will Trevor Zander ever recall the dedicated love his wife Zoey has showered upon him over their years of marriage? How in all good conscience can he claim intimacy with a woman he no longer recognizes? Armed with only his video diaries he escapes to a cabin in the woods intent to claw back his life, and reignite his love for his wife. Zoey's fervent prayers follow him there. Forgotten flames. Disappearing days. Faithful devotion through the valley of the shadow. Sweet Dream Memory delivers a memorable dose of passionate love against the odds with happy ending never to forget.
Sweet Dream Wedding
At the altar Melanie is confronted by "the other woman". What's worse is that Justin cleverly placing the blame squarely on her expecting her to accept him! What do you do when your long cherished dream turns into your worst nightmare? In this turnaround romance, you'll join Mel on her unexpected journey from stinging rejection to unexpected love. But how? It all seems like a dream…
Sweet Dream Holiday
It stings to be the single woman at King Vineyards! Even worse when you are attending the blissful wedding of your best friends. But Donna Aldridge has found a way to cope – church. Much to her surprise, she's found comfort in the words of love that the pastor shares, and everything she hears sounds great except one thing – forgiveness. Donna's struggling with it and she knows why, especially when it comes to Clay. Clay wants forgiveness from a woman he knows won't give it, but he's come to Napa on a mission and he won't leave until it's accomplished. Donna may hate him, she may not want to see him again, but Clay's heart has brought him back to the place and the woman he abandoned. Only God knows how he will succeed, but he has faith that there has to be a way. Can Donna find it in her heart to forgive the man who broke it all those years ago? Is there such a thing as second chances?
Sweet Dream Friend
When the man you love stands aside to let his best friend sweep you into a whirlwind marriage you never wanted what can you do? Bethany Jenner wants to run and never stop until she falls into the arms of the man she really loves, Cesar Miguel. She supposes maybe he doesn't want her and resigns herself to dashed dreams and an unknown future. Cesar is an honorable man, and a friend who sticks closer than a brother, so when his best friend declares his intentions to marry the secret love of his life, Bethany, he seeks to bless them both and hide his hurt. But God has another plan at work, one that no one could have planned or even imagined. Sweet Dream Surprise When Linda Presley gets set up on a blind date by her best friend and sisters, the last thing she expects is to have fun. Told by all that she will meet the man of her dreams in this way, she shuns their enthusiasm, knowing that such things happen in Hollywood, but not here at home! Joshua Brand is desperate for his older brother to meet a good woman and finally find happiness. Setting up a blind date seems to be a great idea until the tables turn and Joshua and his sibling are thrown headlong into a most unexpected surprise!
Other Books in "Sweet Dream Romance"
Disclosure of Material Connection: Some of the links in the page above are "affiliate links." This means if you click on the link and purchase the item, I will receive an affiliate commission. I am disclosing this in accordance with the Federal Trade Commission's
16 CFR, Part 255
: "Guides Concerning the Use of Endorsements and Testimonials in Advertising."