Curly Bay Cozy Mystery Boxset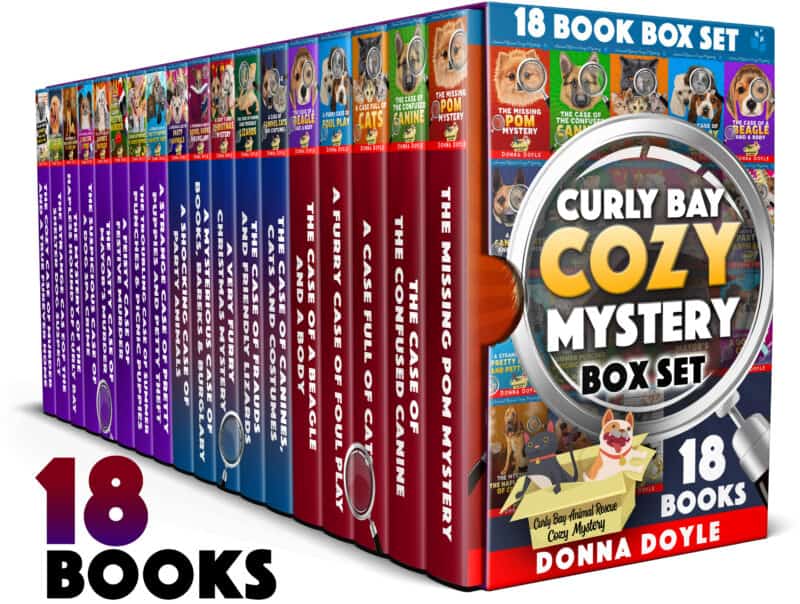 About the Book
For the first time in one massive box set, all 18 Curly Bay Cozy Mysteries starring animal-loving amateur sleuth, Courtney Cain. Join Courtney and her furry small-town sleuths for 18 whodunnit mysteries. Each one will keep you guessing until the final page. Courtney Cain's life is turned upside down when she loses her job at a prestigious ad agency and she's ready for a change. When she finds an opening at the Curly Bay Pet Hotel and Rescue, it seems like the perfect fit. Her pet-loving antics soon uncover all sorts of small-town cozy murders and mysteries. Courtney and the animals she loves become the unexpected small-town sleuths! Included in the massive 18 book cosy mystery collection: The Missing Pom Mystery The Case of the Confused Canine A Case Full of Cats A Furry Case of Foul Play The Case of a Beagle and a Body A Case of Canines, Cats and Costumes The Case of Frauds and Friendly Lizards A Very Furry Christmas Mystery A Mysterious Case of Books, Barks & Burglary A Shocking Case of Party Animals A Strange Case of Pretty Puppies and Petty Theft The Troubling Case of Summer Punches & Picnic A Feisty Case of Festive Murder The Catty Case of Mayor's Murder The Suspicious Case Of A Dog Spa Crime The Mystery of the Hapless Hound of Curly Bay The Strange Case of the Shelter Dog Suspect The Cozy Case of Murder and A True Furever Home Join Courtney Cain in her Curly Bay Animal Rescue Cozy Mysteries and meet a host of quirky, lovable characters, both furry and otherwise! All 18 cozy mysteries in one never-to-be-missed collection – start reading today!
Disclosure of Material Connection: Some of the links in the page above are "affiliate links." This means if you click on the link and purchase the item, I will receive an affiliate commission. I am disclosing this in accordance with the Federal Trade Commission's
16 CFR, Part 255
: "Guides Concerning the Use of Endorsements and Testimonials in Advertising."