Curly Bay Cozy Mystery Books 6-10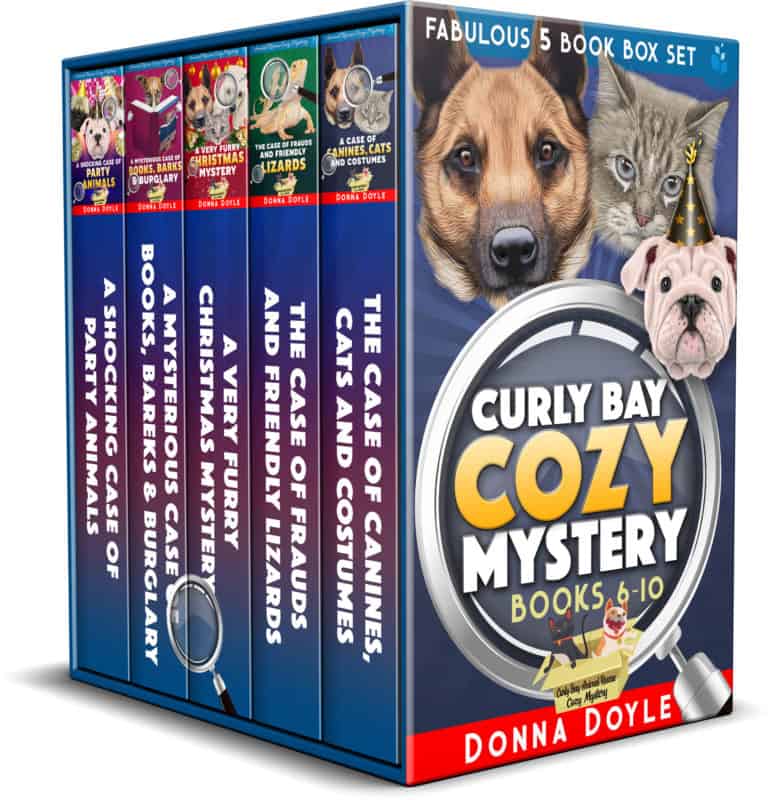 About the Book
Five Curly Bay Animal Rescue Cozy Mysteries in one fabulously furry bargain box set. Courtney Cain's life is turned upside down when she loses her job at a prestigious ad agency and she's ready for a change. When she finds an opening at the Curly Bay Pet Hotel and Rescue, it seems like the perfect fit. Her pet-loving antics soon uncover all sorts of cozy mysteries, however, and Courtney and the animals she loves become small-town sleuths! Included in the 5 book bonanza: • A Case of Canines, Cats, and Costumes • Fall is in full swing, and Courtney Cain is getting ready for the Apple Jubilee with the rest of Curly Bay. Until an unexplained robbery puts the festivities in jeopardy! When the iconic Admiral Apple costume goes missing, the entire Jubilee is compromised. Courtney knows something suspicious is happening, and she just has to figure it out! Join Courtney for another cuddly, cozy case of a missing identity – where has Admiral Apple gone? And why would anyone want to sabotage the Apple Jubilee? • The Case of Frauds and Friendly Lizards • When a gecko called Ink and an abandoned bearded dragon unlock the clues to a mysterious murder you know that you've landed in Curly Bay! Courtney is caught up again, this time with a scaly trail of clues to follow.Despite a soggy challenge at the animal rescue center, and the imminent arrival of her parents for Thanksgiving celebrations, our amateur sleuth cannot escape her unquestionable gift of uncovering foul play in Curly Bay! Join Courtney Cain with some uncommon reptiles as her sidekicks! • A Very Furry Christmas Mystery • When looking for new homes for the Curly Bay animal adoption program becomes a search for a killer, who better to sniff the culprit out than amateur sleuth, Courtney Cain? It's almost Christmas, and Courtney is trying to come up with great ways to promote the shelter. Through a lucky connection, she gets the chance to bring the adoptable pets to the local news station to be on TV! When it goes over well and she keeps getting invited back, Courtney starts to think this might be a great chance for some of these sweet pets to find homes for the holidays. When one of the news crew is killed, however, Courtney knows she has more to do than shop for Christmas gifts. • A Mysterious Case of Books, Barks & Burglary • As winter sweeps in Courtney Cain's charity money goes missing, and the prime suspect ends up colder than the winter chill… Can Courtney find the culprit before something even worse happens? The Curly Bay locals swear that winter's going to be a cold one, but Courtney is warmed by the thought of a Books and Barks charity event at the local library. Until the donation money takes a walk, and the prime suspect ends up dead! The plot gets thicker and Courtney knows she's got to dig deep to discover who is responsible for these dastardly Curly bay crimes. • A Shocking Case of Party Animals • When "accidents" happen it's time for amateur sleuth and animal lover, Courtney Cain, to uncover the shocking truth! Courtney is up to the challenge when one of the most prominent clients of the Curly Bay Pet Hotel and Rescue wants her to throw a birthday party for her dog. Electrical problems both at the shelter and at home stall some of the party-making plans. But when an 'accidental' death occurs, Courtney has to wonder if there's more than what's seen on the surface. Join Courtney Cain in her Curly Bay Animal Rescue Cozy Mysteries and meet a host of quirky, lovable characters, both furry and otherwise! Five cozy mysteries in one superb collection – start reading today!
Disclosure of Material Connection: Some of the links in the page above are "affiliate links." This means if you click on the link and purchase the item, I will receive an affiliate commission. I am disclosing this in accordance with the Federal Trade Commission's
16 CFR, Part 255
: "Guides Concerning the Use of Endorsements and Testimonials in Advertising."