Curly Bay Cozy Mystery Books 1-5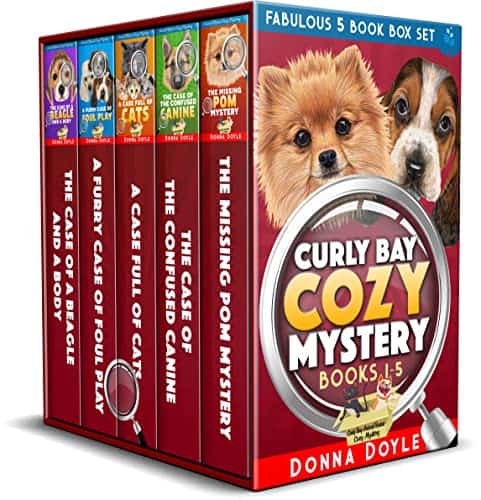 About the Book
Join us for the first five Curly Bay Animal Rescue Cozy Mysteries in one fabulously furry 5 book box set! Book 1 – The Missing Pom Mystery Courtney Cain's life is turned upside down when she loses her job at a prestigious ad agency and finds out her own fiancé was the one who let her go. She's ready for a change, and when she finds an opening at the Curly Bay Pet Hotel and Rescue, it seems like the perfect fit. Until a prize winning Pom disappears on the very first day and Courtney is in the firing line! The finger is pointed at her, and she has to get to the bottom of the case before her life is turned upside down once again. Book 2 – The Case of the Confused Canine Courtney Cain can't believe that a former police dog has just been dropped off at the Curly Bay Pet Hotel and Rescue. Grieving Gunnar isn't interested in working with anyone else following Officer Walter Cheatham's demise, and now it's Courtney's job to find him a new home. The German Shepherd needs some work before he can get a forever home, and as Courtney helps him, Gunnar's strange behavior leads her into another Curly Bay mystery. Can a confused canine really be the key leading to the truth behind Officer Cheatham's untimely death? Courtney thinks so, but she will have to prove it! Book 3 – A Case Full of Cats A severe thunderstorm has hit Curly Bay, causing major damage to the Curly Bay Pet Hotel and Rescue. Fortunately, a wealthy patron is interested in hosting a fundraiser to help offset the costs. As Courtney and Mrs. Throgmorton organize the event, Courtney starts to feel she's being sabotaged at every turn. Meanwhile, a series of break-ins has been happening all over town, and the shelter finds itself in charge of a cat found at one of the crime scenes. Can her new feline friend help amateur sleuth Courtney uncover what is really happening in Curly Bay? Book 4 – A Furry Case of Foul Play When searching for new foster homes for furry friends becomes a man hunt you know you've landed in Curley Bay, and Courtney Cain will be on the scene sniffing out the clues! With a sudden influx of animals into the shelter, Courtney Cain knows it's time to start up a foster program at the Curly Bay Pet Hotel and Rescue. It's a lot of work, and her life becomes even more complicated when her ex-fiancé arrives in Curly Bay! She's got enough to deal with, but the sudden death of one of the new foster caregivers means Courtney is now searching for homes for animals as well as clues to clear her old flame of accusations that are suddenly flying in every direction. Book 5 – The Case of a Beagle and a Body A fabulous new house, a furry foster program, and a frozen body – all of the ingredients of another Curly Bay Cozy Mystery! Courtney Cain is ready to settle into a home of her own now that she knows for sure she'll be staying in Curly Bay. She loves her job at the Curly Bay Pet Hotel and Rescue, and a home will mean she can participate in the foster program she helped start at the shelter. When her house hunting turns up the body of a dead woman, she's got more than a down payment to worry about! Join Courtney Cain in her Curly Bay Animal Rescue Cozy Mysteries and meet a host of quirky, lovable characters, both furry and otherwise! Five cozy mysteries in one superb collection – start reading today!
Disclosure of Material Connection: Some of the links in the page above are "affiliate links." This means if you click on the link and purchase the item, I will receive an affiliate commission. I am disclosing this in accordance with the Federal Trade Commission's
16 CFR, Part 255
: "Guides Concerning the Use of Endorsements and Testimonials in Advertising."