Christmas With The Duke Boxset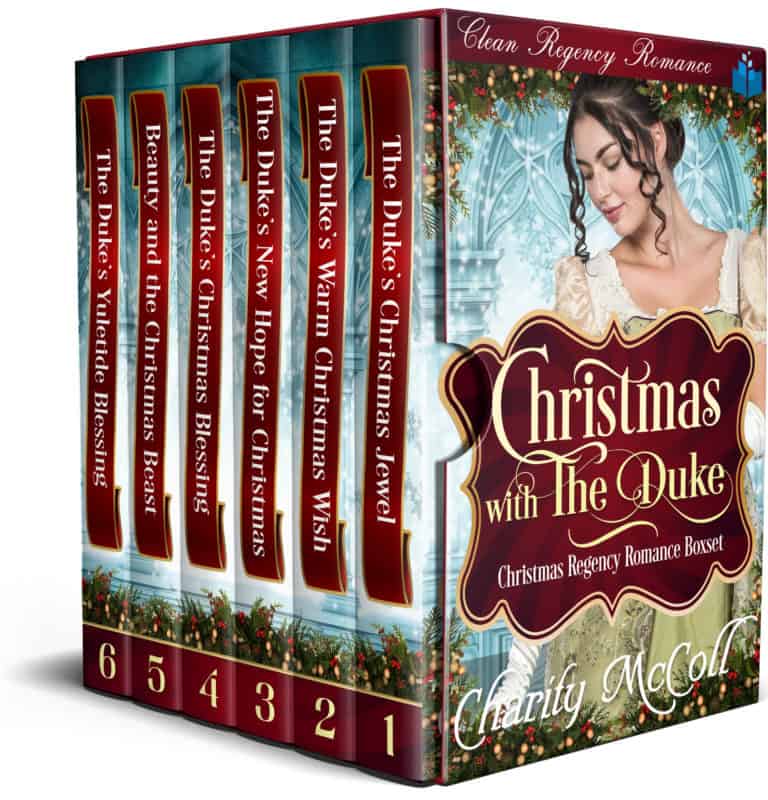 About the Book
A bumper clean Regency Christmas romance bundle, filled with all the thrills, faith and finery you would expect from PureRead. Six super books to enjoy in one! Here are the delightful Christmas tales that await… The Duke's Christmas Jewel Lord Wesley Stanhope, the Duke of Hanningshire hasn't celebrated Christmas for ten years. Each year when the season comes around, he sends his servants away and spends it in solitude. The pain of losing his parents and elder brother to a fire ten years before is too much for him to bear. When scullery maid, Felicity Cowen, finds out that the manor has to be locked up for ten days, she's in despair for she has nowhere else to go. Sneaking back into the manor after everyone has left is the only option and she finds a great surprise when she does so. Christmas will never be the same again for the two of them. The Duke's Warm Christmas Wish Lord John Carrington discovers that finding himself a wife is no easy task. He is searching for someone special and will settle for nothing less than the woman who is perfect for him. A riding accident on Christmas Eve lands him in the care of a beautiful governess and he soon finds that sometimes what we are searching for is discovered in ways we would never expect. The Duke's New Hope for Christmas Amelia Goring can finally breathe and be at peace. Her husband of three years is dead and she is now the owner of the manor. But when she discovers how her husband came into possession of the Clarksville Estate, her conscience troubles her and she wants to make amends to the late duke's son, but has no idea where he is. However, there's something about the new grounds man that troubles her and when she discovers the truth, it leads to a whole new kind of life for the two of them. The Duke's Christmas Blessing When his beloved fiancée disappears Lord Hugh Byron is in deep despair. He loves the lowly maiden and is prepared to live a life of loneliness for he cannot bear to marry any other woman. His heart belongs to Jane Watson and he has no interest in any other. Lord Byron has no idea that his fidelity and integrity are about to bring him a Christmas blessing that he could never have anticipated. Beauty & The Beast Blinded and scarred by tragedy, Lord Trevor, the lonely Duke of Berkeley, lives in horrible isolation. Christmas holds no joy for the jilted Duke, and for three years no other human has looked upon his devastated features. Just a few hours remain before Christmas Day dawns when a spirited village girl Ariel Dixon, stumbles upon the wall surrounding the duke's estate. Driven by curiosity the young lady scales the wall and heads fearlessly to the mansion. Little does she realize what she will find, and who is hidden behind these foreboding walls. The Duke's Yuletide Blessing Lord Connor Braxton, the Duke of Winthrop isn't looking forward to Christmas because he's all alone this year. The past two years have been rather challenging for him as he lost his fiancée and then adverse weather conditions greatly affected his produce. He doesn't know what to do so he prays for a miracle. Andoria Shovia is a very brave and courageous woman who rises up to preserve the throne of her Mother's homeland. But danger lurks everywhere, and she needs to get to England so she can keep the queen and her unborn child safe. But even amidst all that, she longs to find love with a good man and has no idea that her prayer is about to be answered in the most unusual way. Enjoy a festive Regency read with this bargain boxset of seasonal romances.
Disclosure of Material Connection: Some of the links in the page above are "affiliate links." This means if you click on the link and purchase the item, I will receive an affiliate commission. I am disclosing this in accordance with the Federal Trade Commission's
16 CFR, Part 255
: "Guides Concerning the Use of Endorsements and Testimonials in Advertising."