A Blessed Amish Christmas Boxset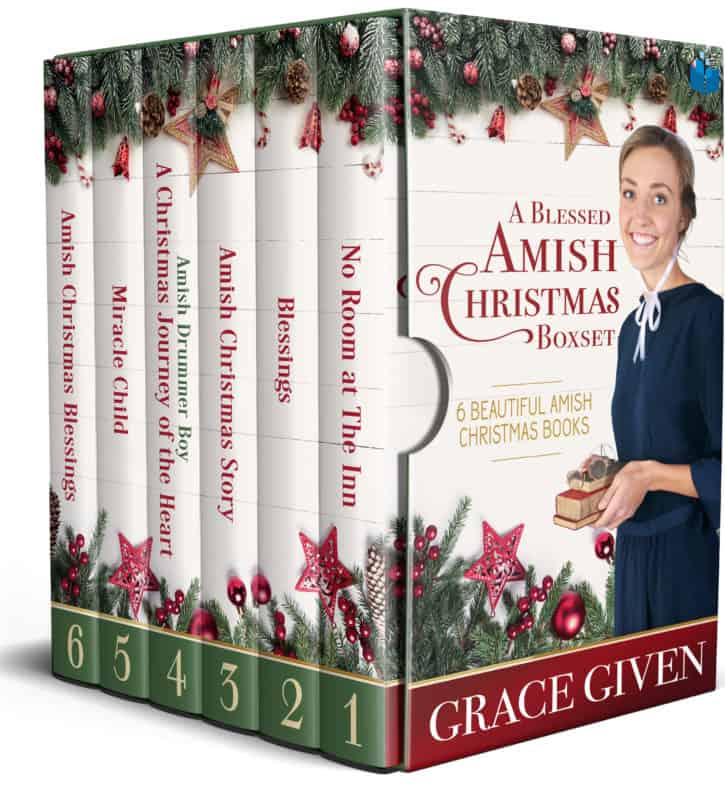 About the Book
A bumper collection of classic Amish Christmas Romances. Included in this special faith-filled Christmas bundle… No Room at The Inn Joseph and Miriam Bieler are a young Amish couple in love and expecting their first child. They dream of a perfect Christmas with their family, but Joseph's brother, Jude, has been gone for months on Rumspringa. Terrible news about Jude forces the young couple to search for him on Christmas Eve in the local Englischer town. During their search, they meet with a medley of strangers, share their faith, and almost lose everything they hold dear. Blessings – An Amish Christian Story A wonderful Amish Christmas story with the timeless message of the cross, that seeks to touch your heart in hopes of building that same faith in you that inspired this Job to hold on to his Lord in the midst of overwhelming difficulties Join Matthias as he recounts the hope-filled story of the other Job, and let the miracle of Christ and the cross touch your heart afresh… Amish Christmas Story A gentle couple, an Amish community and… an unruly son. Clement Litwiller has no desire to follow in his father's footsteps and is not about to waste his life in boring community living. But what he doesn't realize is that his choices and actions have terrible consequences for the ones he claims to love. Edrei and Chloe Litwiller find themselves shunned and have to find refuge in a lonely cabin on top of a hill, far away from the life they used to live. But then it's Christmas time. Will the true spirit of Christmas bring solace to this wounded family, and can miracles really happen at this most wonderful time of the year? Amish Drummer Boy: A Christmas Journey of the Heart It's the time of the American Civil War and the country is wrecked by strife. But war is far away for Johannes, a young Amish boy, who loves to play the drum. However, Mother does not share his passion, and sends him up the hill so she does not have to hear his incessant drumming. But that day a savage troupe of Confederate soldiers raid and burn their farm, and all at once, war is not that far away anymore for young Johannes. He is plunged into the middle of the action without his parents, together with his dog and with an unexpected friend, a deserter from the Confederate army. They search for meaning and truth against the backdrop of war and find the answers on a chilly Christmas Eve. Miracle Child Miriam and Joseph Byler are the perfect Amish couple. Very much in love, dedicated to God and plain living, and looking forward to a large family whom they can bring up and nurture in the ways of God. The only problem is – Miriam does not fall pregnant. Tests reveal that the couple's dreams of children are impossible fancies. You can imagine then the shock and questions that Joseph wrestles with when Miriam suddenly declares herself with child – a child destined to be born on a fateful Christmas morning. Amish Christmas Blessings A peace-filled Amish life gate-crashed by tragedy. A chance meeting in unexpected places. A Christmas babe in arms with the promise of a bright future. Happily married, secure, and safe in her faith and surrounded by her Amish friends, life couldn't get any better for Elisabeth Zook. Until one awful moment strips her of the people she loves. Elisabeth learns the hard way that God does not promise skies ever blue. She also discovers that He walks with us as we cross a valley of pain, and find His unexpected blessing on the other side of the chasm with arms open, ready to shower us with greater love than we ever imagined possible.
Disclosure of Material Connection: Some of the links in the page above are "affiliate links." This means if you click on the link and purchase the item, I will receive an affiliate commission. I am disclosing this in accordance with the Federal Trade Commission's
16 CFR, Part 255
: "Guides Concerning the Use of Endorsements and Testimonials in Advertising."