Victory of the Heart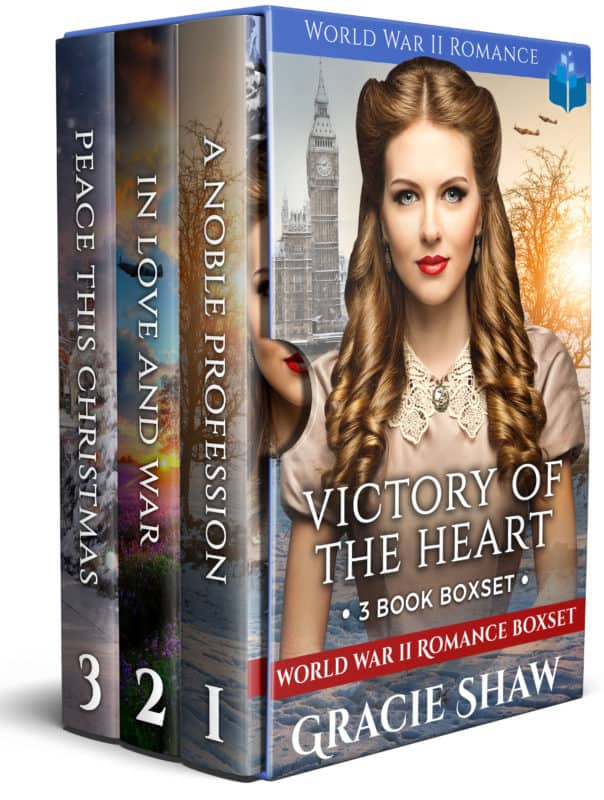 About the Book
A historical romance boxset filled with love against the odds, and beautiful romantic tales of overcoming adversity. Three beautiful stories in one bundle, free to read on Kindle Unlimited. Included in this boxset… A Noble Profession The year is 1942, and young nurse Connie Clarke faces cold resistance from fellow hospital staff. Posh Connie's kitten-glove upbringing means she does not fit in with her hard-weathered colleagues, but this makes her all the more determined to work hard and prove herself. Despite her challenges, Connie soon grows fond of the colorful characters in St Anne's Hospital, especially the handsome young House Surgeon Arthur Morgan. But will he ever see her as more than a blundering beginner? Set against the bleak backdrop of the horrors of war, Connie's commitment to her noble profession is a heartfelt war story filled with a spirit of love that will never surrender. Follow Connie's pathway to victory as she overcomes every obstacle to win the hearts of her hospital detractors, and the attentions of the hard-working Arthur. In Love & War Summer 1940. All of Britain is swept up in the war effort. But Prudence Clearwater longs to be swept up into something very different. What she does not know is that the discovery of an old letter in the dusty archives of her workplace will pull her into the love story that she always dreamed of. Prudence is forced to think about her future when her fiancé seeks to speed their wedding day. Why is her heart so reluctant? Does her future hold some hidden secrets she is not yet aware of? Frederick Spencer is an engineer who deals in facts and figures. His work is so important to him, and to King and Country, that he has avoided conscription into the Armed Forces. But when his eccentric aunt drags him into a hare-brained scheme to find a man whom she jilted four decades ago, Frederick is compelled to help her. In times of war, can people follow their own paths? Will Prudence find the courage to write her own story, and will Frederick learn that there is more to life than duty? Peace This Christmas The year is 1941. RAF pilot James Durham can't wait to get out of Hull, where he has been stuck for the last few months. He wants to get home to London, and away from the gloom of the war-torn city. But then, of course, he happens to meet the love of his life in the middle of an air-raid. Fate is cruel like that. James has no doubt that Lily Parrish is the girl for him, which makes it all the more surprising when she doesn't show up for their date the next day. Does she feel the same way about him? Is it a case of two trains passing in the night? James doesn't know, and since he's due to go back to London, he's not likely to find out. At any rate, he would prefer not to be stood up again – since Fred and the boys at the base already tease him enough about the first time – so it doesn't seem likely that Lily will be thrown into his path again. That is, unless James's meddlesome stepsister Irene has any say in the matter. Enjoy this warm World War 2 Christmas romance as two war-ravaged hearts find their peace.
Disclosure of Material Connection: Some of the links in the page above are "affiliate links." This means if you click on the link and purchase the item, I will receive an affiliate commission. I am disclosing this in accordance with the Federal Trade Commission's
16 CFR, Part 255
: "Guides Concerning the Use of Endorsements and Testimonials in Advertising."