Ruby of the Slums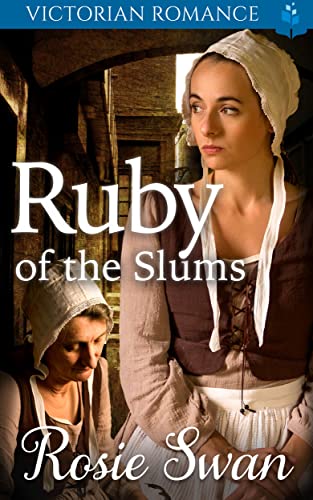 About the Book
Life is hard for a plain, unloved, urchin like Ruby Brandon. Alone in the world with little to bring her joy other than the occasional orphanage outings to Wood Horse Farm, Ruby has nothing but her dreams to hold on to. The only thing she loves more than the farm horses is Clark Wood, the eldest son of the Wood family, but the unscrupulous manager of the farm has dark plans for Clark. Ruby helps Clark escape to America, but she herself is forced to seek refuge in the teeming industrial slums of Newcastle, a place where dreams come to die. Clark has gone, the orphanage and the farm a memory. Can Ruby discover life in these dark streets? Will Clark return to find Ruby again? How can he when she has disappeared and no one wants to tell him where? Rosie Swan, the esteemed author of Victorian romance, invites you once again to see hope shine through in the darkest of times, in her latest novel, Ruby of The Slums. Rosie writes clean and wholesome romance suitable for any age.
Disclosure of Material Connection: Some of the links in the page above are "affiliate links." This means if you click on the link and purchase the item, I will receive an affiliate commission. I am disclosing this in accordance with the Federal Trade Commission's
16 CFR, Part 255
: "Guides Concerning the Use of Endorsements and Testimonials in Advertising."