Elizabeth's Christmas Challenge – To Win A Bride's Heart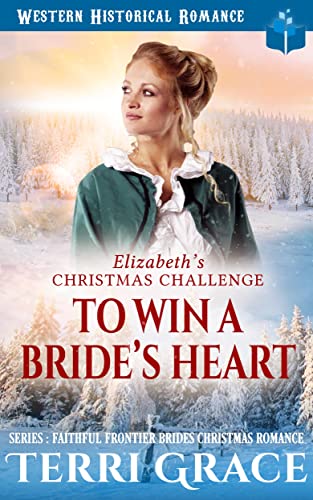 About the Book
Wrongly accused of dealing death to her patients, Dr. Elizabeth Shatner is forced to flee her beloved Carterville. Her only way out is as a Mail Order Bride, braving the long journey on the trail to Independence, Oregon. But plucky Elizabeth refuses to give her heart to many man without a fight! Lionel Brewer has been waiting for his bride for a full year and when she finally arrives in Independence, she gives him conditions for their marriage. He has seven days within which to fulfill the conditions and prove that he's a worthy man. Christmas Day is his deadline; will he be successful in winning the hand of the woman who has captured his heart or is it a lost cause altogether? Elizabeth's Christmas Challenge – To Win A Bride's Heart is the second book in the beautiful Faithful Frontier Brides Christmas Romance Series – A super standalone story, but part of a bigger adventure following five brides to their happy ever afters.
Other Books in "Faithful Frontier Brides Christmas Romance"
Disclosure of Material Connection: Some of the links in the page above are "affiliate links." This means if you click on the link and purchase the item, I will receive an affiliate commission. I am disclosing this in accordance with the Federal Trade Commission's
16 CFR, Part 255
: "Guides Concerning the Use of Endorsements and Testimonials in Advertising."