Christmas Blessings Romance Boxset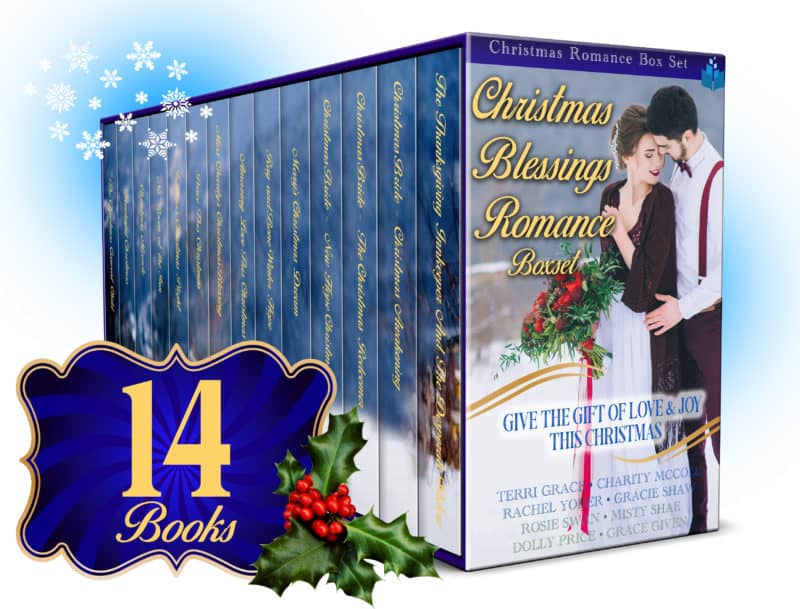 About the Book
14 Complete, Sweet, Clean and Wholesome Thanksgiving & Christmas Romances from eight bestselling authors! *** Amazing value, and FREE with Kindle Unlimited *** Collected together for the very first time, this Christmas romance collection includes Historical, Western, Mail-Order Bride, Modern, Wartime, Regency, Victorian, and Amish Romance. The Thanksgiving Innkeeper And The Desperate Widow Mary Owens is no stranger to heartbreak, and now as a widow with her twins, she embarks on an adventure to become a mail-order bride. Christmas Awakening Two hurting souls don't know that the Lord's plans for their lives are about to unfold in ways they would never have expected. The Christmas Redeemer Shunned by everyone because of her deceased husband's infamy as a famous gunslinger, Grace Huntingdon finds something there that in Rocky Springs changes her life forever. New Hope Christmas Sue makes a shocking discovery that throws her into a whirlwind of circumstances beyond her control when Christmas catches up with her lonely soul! Mary's Christmas Dream Will Mary find the courage to let Joseph know that he's the only one for her when the consequence could be expulsion from her community? Join us for an unforgettable Amish Christmas romance. Rag and Bone Winter Hope Driven from home to be dumped in the workhouse, Charlotte Weston has had to fight for survival. A brave Christmas journey she takes then changes everything. Amazing Love This Christmas Lady Samantha Callahan has no idea the lengths to which her husband will go to make things right and strengthen their marriage. Miss Charity's Christmas Blessing A Christmas-time robbery by a street urchin opens a chance encounter between Charity Pendleton and Lord Beaufort Arberry, and a surprising Christmas turnaround tale unfolds. Peace This Christmas RAF pilot James Durham meets the love of his life in the middle of an air-raid. A warm Christmas romance as two war-ravaged hearts find peace in the midst of war. Isadora's Christmas Plight …through the rain and snow a man's figure can be spotted through the mists searching for the woman he has grown to love. His mission? Find Isadora Fontaine and bring her home. No Room at the Inn Joseph and Miriam Bieler dream of a perfect Christmas with their family but terrible news forces the young couple to leave their home on Christmas Eve and head into the night. A strangely familiar story with an unforgettable Amish twist today! Christmas Miracle When her life falls apart after her marriage ends, Sabrina Randle dreads a lonely Christmas wondering why her life has taken such a bitter turn. Harry Moore loses his wife and is left holding a small baby and is filled with despair. Neither could have ever imagined that Christmas will bring a miracle beyond their wildest dreams. Wonderful Christmas When his life is turned upside down after betrayal by a colleague, the last thing Dr. Joseph Winspear expects to find when he returns to his hometown is love and acceptance. When Captain Laura Hall, military nurse, finishes her tours in the battle field and returns home, the last person she expects to find is her high school crush. What unfolds is a delightful Christmas romance neither would have expected. The Christmas Convent Child What is the secret that Eliza holds that her unscrupulous guardians are so keen to possess? The Christmas Convent Child is a beautiful Victorian Christmas tale that is hard to put down! Grab this box set now and give yourself a gift of many happy hours of festive reading romance.
Disclosure of Material Connection: Some of the links in the page above are "affiliate links." This means if you click on the link and purchase the item, I will receive an affiliate commission. I am disclosing this in accordance with the Federal Trade Commission's
16 CFR, Part 255
: "Guides Concerning the Use of Endorsements and Testimonials in Advertising."