Brides For All Seasons Volume 5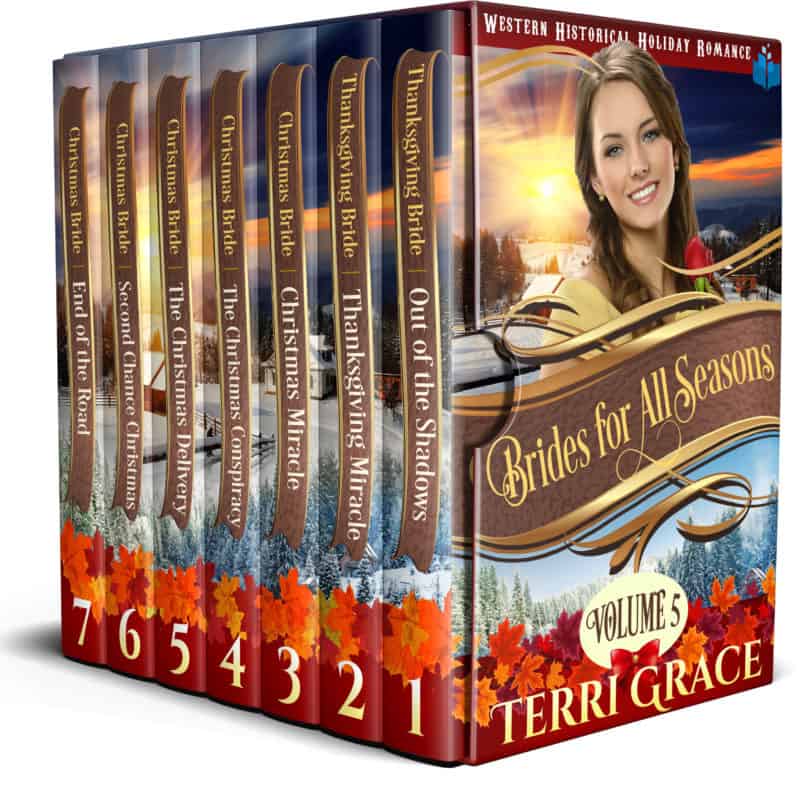 About the Book
A Celebratory Christmas Collection of sweet Thanksgiving & Christmas historical romances. Pick it up today and READ FOR FREE ON KINDLE UNLIMITED. Includes these 7 wonderful stories… Thanksgiving Bride – Out of the Shadows All her life, Selene Dander has lived under the shadow of her older sister, being considered plain while Rachel is so beautiful. She yearns for freedom and love, and that takes her out to Spencer, Idaho, and to the home of Jude Wagner, widower, and father of a two-year-old daughter, to become his bride. Thanksgiving Bride – Thanksgiving Miracle After being betrayed by her fiancé who only wanted to marry her because of her wealth, Sophie Weston sets out for the West to find herself a man who will love her unconditionally and for herself. Christmas Bride – Christmas Miracle When her father shows up at her doorstep fifteen years after he abandoned her and her mother, Danielle Cochran is in no mood to forgive him but her tender heart yields and compassion takes over. Only when he dies does she discover that he has once again swindled other people and that his character never changed. She knows that she must make restitution and travel to Foxworth in Nevada, but Dannie has no idea that her kindness is about to change her life forever. Christmas Bride – The Christmas Conspiracy Three years ago on Christmas Day, Isadora Morton lost her fiancé just five days before their wedding. Worried that her niece was becoming a recluse, her Aunt Rose sends her to Seattle to visit her cousin Jenny. Isadora arrives on Christmas eve, but Aunt Jenny is nowhere to be seen. Christmas Bride – The Christmas Delivery When unexpected tragedy leaves Hilda Rooman holding her friend Peppy's six-month-old daughter, she has to travel to the West to reunite the child with her mother's estranged brother, but what does life hold in store for her? Christmas Bride – Second Chance Christmas The morning after his wedding night, Reuben Tucker is shocked to find out that his beautiful and chaste bride was already married to someone else before coming to him. Angry at the deception, he immediately sends her away but something tells him not to stop fighting for his new wife's heart and honor. Christmas Bride – End of the RoadCan a Christmas miracle restore Richard and Flora Dawson's troubled marriage? Married for twenty five years and childless, husband and wife are barely holding on to their normalcy because of all the pain involved. Both are afraid of facing the fact that their marriage could be headed for a very tumultuous future and yet they are still in love. Can they work things out and make something out of their pain? What they don't know is that their lives are about to change in ways they could never have envisioned, and bring them to a place where they realize that miracles still do happen. And what's more, that it's never too late to make a difference in another person's life. Read 'Brides For All Seasons Volume 5 Boxset' today for a feast of seasonal Thanksgiving and Christmas historical romance.
Other Books in "Brides For All Seasons Volume V"
Disclosure of Material Connection: Some of the links in the page above are "affiliate links." This means if you click on the link and purchase the item, I will receive an affiliate commission. I am disclosing this in accordance with the Federal Trade Commission's
16 CFR, Part 255
: "Guides Concerning the Use of Endorsements and Testimonials in Advertising."