A Perfect Christmas Boxset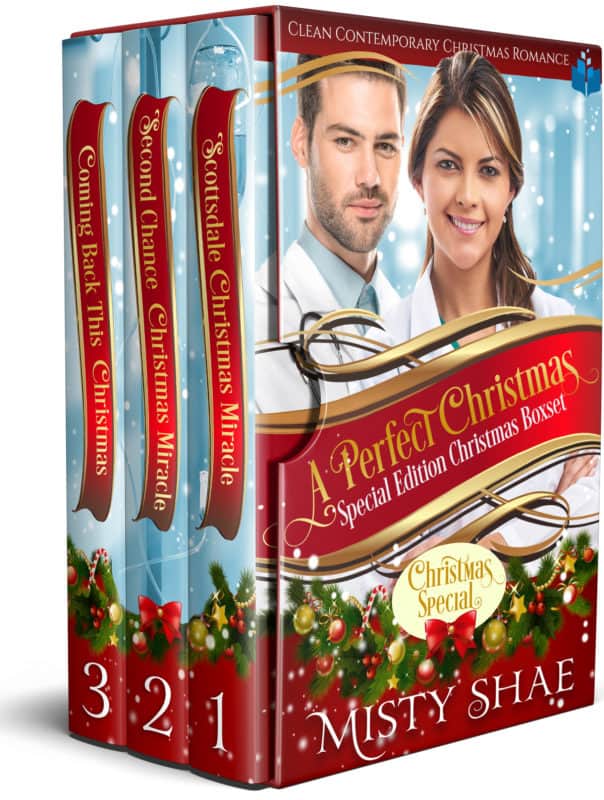 About the Book
Get ready for a triple helping of festive romance with cherries on top! If you love warm-hearted Christian romance with a seasonal twist and lashings of love, you will not want to miss A Perfect Christmas Boxset. Read it today… Included in this triple book Christmas collection… Scottsdale Christmas Miracle Melanie Buchanan goes out of her way to ensure that her Care Home patients are never alone, especially during the holidays. But what about her? When will she have a family of her own? As Christmas approaches her heart yearns for a miracle only God can provide. Connor Miles has it all. He's a brilliant and upcoming surgeon and has a beautiful fiancée whom he's set to marry in the second week of the New Year. But his dreams all come to a shattering end with a single phone call just a few days before Christmas. Connor and Melanie's are thrown together in a Christmas romance that shows even the most desperate prayer finds an answer when they flow from a faithful heart! Second Chance Christmas Miracle Annabelle and Jonathan Price have been married for about four years but have been living separately for the past year. They had a terrible row last Christmas and after one full year of being apart, can they hope to patch things up and restore their marriage? Can two wounded hearts find healing, or will their miracle melt away like the Christmas snow? A beautiful Christmas short story filled with the hope and healing of the season. Coming Back This Christmas Christmas is here, and her marriage is over. But Irene Duchamp still loves her husband and believes they can work things out; that's until her family interferes and things go so wrong. Carter Duchamp can't believe that his marriage of seven years is over. He still loves his wife but how does he fight with his powerful in-laws so he can be the one who matters most in her life? Will this Christmas bring them a miracle and the joy that has been missing in their lives for a while now?
Disclosure of Material Connection: Some of the links in the page above are "affiliate links." This means if you click on the link and purchase the item, I will receive an affiliate commission. I am disclosing this in accordance with the Federal Trade Commission's
16 CFR, Part 255
: "Guides Concerning the Use of Endorsements and Testimonials in Advertising."